Regardless of how stressful our lives may be with the backdrop of COVID-19, social distancing, and the slowing global economy, we all have things to be thankful for. The darkest of times encourages all of us to reflect on the most positive aspects of our lives.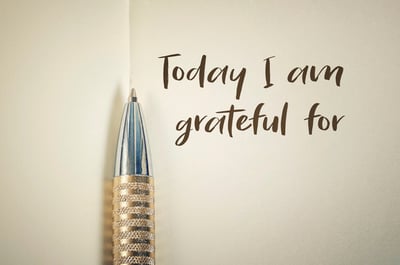 I've often shared a TED talk by Shawn Achor in our sales training. Shawn's short, fast-paced (and quite humorous!) presentation contains several valuable messages, including his observations that 1) gratitude leads to happiness; and, 2) happiness is the key to creativity, productivity, and success. While most of us are wired to believe that we will achieve happiness through success, Achor claims that achieving happiness in your daily life will actually result in success. Achor suggests that at the end of each day, you should write down three things for which you're grateful or journaling. Believe me, it works!

During these times of uncertainty, please consider the weekly ritual that one of our Boot Camp graduates shared with us:

Every Friday, he and his two siblings email each other. In that email, they share everything that happened over the past week that they're thankful for. This approach has two wonderful attributes. First, the exercise yields a documented record of gratitude that can be referenced any time they need an emotional lift. Second, the system has a built-in fail-safe mechanism – one of the three siblings always remembers to send the email even if the others forget.

You don't have to have siblings to use this exercise – find friends, coworkers, or family members to join you in forming a weekly (or daily) gratitude email group. The results can be life-changing and remind us that we are all in this together.