As a subject matter expert and teacher, I've been hosting webinars for several years. Now that they have become a necessity due to social distancing, allow me to share some of the tricks of the trade make webinars successful.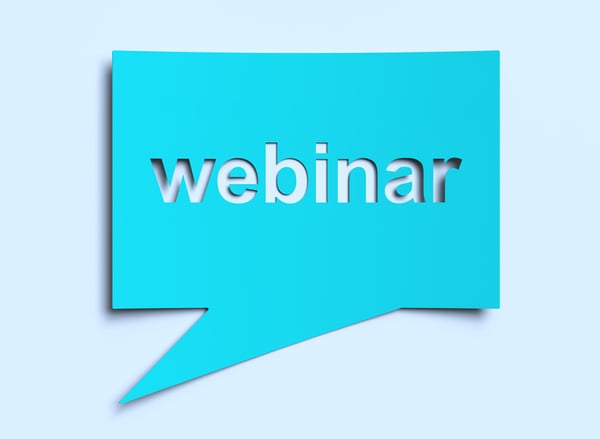 1) Make sure your webinar is essential and "must see." This first step is making sure the title of your webinar and its contents grab attention and draw people in. This is necessary because you'll be competing with countless others vying for the same person's attention.

One thing that remote selling hasn't changed is how busy we are. As much as prospects are staying at home and believe they have extra time because they aren't commuting, there's still a plethora of things to do. No matter what, you need to make your webinar compelling enough to attend. If it isn't, it will get lost in the shuffle.
2) Keep the webinar short.

In my experience, I've discovered the ideal length is 45 minutes followed by 15 minutes for a Q&A. If it's shorter people may assume it's not worth the time, and if it's longer they don't want to risk getting bored or losing time to do other things.
As an aside, allowing time for questions promises direct interactions with the instructor and ensures that attendees understand the material. Not every presenter provides that, so it's a definite asset that will set you apart.
3) Make the webinar available after the fact.

There's a debate as to whether or not you should make recorded versions available after the webinar has taken place. Some people say it doesn't matter because regardless of whether someone attends or not, they have their contact information and you can follow up with them later.

I would argue that whether people attend during the allotted time or not, a recording of the webinar should be made available to them to watch at their leisure. Maybe something else came up and they weren't able to see it live. Maybe they were interrupted by a phone call or a family emergency. Why should they be prevented from experiencing what they clearly showed an interest in (and in some cases paid for when they registered)? Moreover, I find that telling attendees that they'll get access to a recorded version of the webinar gives them the luxury of sitting back and enjoying the presentation rather than risking carpal tunnel syndrome frantically taking notes while I'm speaking.
4) Be aware of what will attract attendees. I've often said that people are motivated more by avoiding loss than achieving a gain. FOMO, or the fear of missing out, is a strong driver. Why would someone want to miss a webinar that their competitors may be watching?
One of the most effective tactics I've seen is titling webinars with something like, "10 Pitfalls That Cost You Money This Year." With a significant recession as the backdrop, lots of folks are now grasping at straws trying to figure out how they're going to pivot their businesses. Another example: a colleague of mine recently hosted a webinar about UV-C germicidal lighting, which is a hot topic considering the pandemic. Why would you pass up a webinar about a technology that passively kills bacteria and viruses? Most people are clamoring for new ways to keep their employees and customers safe as businesses, schools and the rest of society begins to reopen.
5) Why not a webinar series? To be honest, doing a one-and-done this year would be a waste. If you're perennially visible, you'll get more clients and build loyalty. You'll constantly be in front of your customers.
With that in mind, I wouldn't overwhelm attendees by doing them too often, especially with so many of us suffering from Zoom fatigue and constant conference calls. Pick a series length that makes sense, and be sure to offer recorded versions of each installment to accommodate folks whose schedules prevent them from attending on the same day at the same time over multiple weeks.
6) Don't schedule a webinar with short notice. I would recommend two or three weeks in advance, sending two reminders beforehand - one the week before and the other 24 hours before the meeting time. I've signed up for some webinars that go as far as pinging you two hours before—some even offer exciting statistics like how many people have signed up so far and who they are.
7) Prepare, prepare, prepare. Make sure you have a platform that will accommodate how many virtual seats you're offering. The basic GoToMeeting license plan is limited to about 25 participants, but you can accommodate 250, 500 or even more depending on your plan. Zoom offers 100 to 500 seats, Google Meet offers 100 and Microsoft Teams offers 250.
Another key thing to keep in mind is how much internet bandwidth you have. There's nothing more frustrating than presenting a great webinar only to realize that your poor internet connection is compromising your video and/or audio feed, causing your audience to miss every other thing you show or say.