Here's some insight into how an efficiency maneuver might benefit the landlord.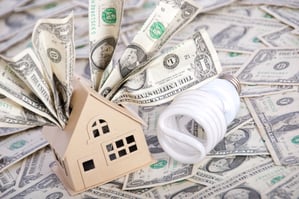 In the wake of an efficiency project, a landlord may see a reduction in unreimbursed operating expenses. If you're unfamiliar with unreimbursed operating expenses, here's a simple explanation to help you wrap your mind around the concept:
If the tenant is paying for operating expenses based on his or her share of the rentable square feet of that building, and if any portion of the building is vacant, the landlord doesn't have anybody to bill for that portion of the operating expenses. As a result, the landlord puts that bill in his pocket and that becomes part of the unreimbursed operating expenses. [Please note that there is a concept called "gross-up" that helps landlords reduce their exposure to such unreimbursed expenses, and that's a topic worth researching further if you're committing to understanding the business dynamics that drive decision-making in landlord/tenant settings.]
So, what does this mean? If you did a project that reduced energy spend on a property, then the percentage of vacancy would be the percentage that the landlord would enjoy as a result of doing the project. If you're working with a building that has vacancy (or is expecting vacancy), and the landlord has not somewhat insulated his exposure with a "gross-up clause" in the model lease, this is definitely a point that you want to drive home.
A couple of other benefits that you should keep in mind when preparing a compelling value proposition:
Lower operating expenses often result in higher base rents and/or better tenant retention and attraction.

Higher Net Operating Income supports higher asset value upon refinancing or sale.