Today we're going to explore Capital Expenses (also known as Capital Expenditures or "Cap Ex") in the context of how it could benefit a prospect or a customer.
To start, a Capital Expense is a fixed asset purchase or a purchase that adds to the value of an existing asset where the useful life extends beyond the current fiscal year. This includes things like machinery, lighting systems, chillers, boilers, etc.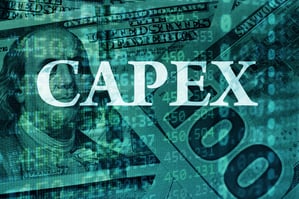 Unlike Operating Expenses, Capital Expenses cannot be fully deducted in the period in which they are incurred (unless special bonus depreciation rules are in place in the current period), and they are deducted over a period of years (depending on tax rules and the useful life of the asset). One key point to understand is that tangible assets are depreciated, while intangible assets are amortized over time.
In an income-producing property, the costs incurred when buying the property AND upgrading its building systems all fall into the category of Capital Expenses.
People often ask me: "If I'm advancing this efficiency maneuver in my own organization or proposing it to a prospect, should I suggest that it be labeled a Cap Ex or Op Ex investment? Which is better?" The answer to this question really depends on the situation.
Most people prefer to consider upgrade expenses as Op Ex instead of a Cap Ex investments because it keeps it "off-balance-sheet" and they sometimes get to deduct the entire value now (which reduces the entity's tax burden for that fiscal period). However, someone might actually prefer to label a project as Cap Ex. Posting it as Cap Ex rather than Op Ex allows the entity to show higher earnings in the current fiscal period because the entire cost of the improvement is not deducted from earnings. Ultimately, generally accepted accounting principles will dictate the more defensible way to classify a given expense – as an Operating Expense or a Capital Expense.
In summary, don't automatically assume that everyone wants to keep the expense "off-balance-sheet." Some may want to post the expense as a Capital Expense rather than an Operating Expense because of the above-referenced impacts on the entity's financial statements.