With the ever-present stimulation and fast pace of modern society comes the decline of attention span. If you want to capture the attention of a prospect who doesn't have the attention span (or ability) to fully understand a formal written proposal with its complex financials and technical appendices, consider adding some visuals to convey value.
I heard a story several years ago that I'd like to share with you about a campaign created by JCPenney to transform the behavior of its tens of thousands of store associates:

JCPenney hypothesized that behavioral modification was a great way to save energy, so they spent $50,000 to hire a professional cartoonist to create a comic book that featured caricatures of the energy manager and all the C-level executives at the company. They even created fictional characters like "Energy Man" to guide readers through the story of how their associates could have a meaningful impact on the energy management of a typical store with zero capital impact. Prizes were given to the stores that saved the most energy – simple stuff, like pizza parties, "Extreme Energy Make-overs" of staff break rooms with ENERGY STAR® appliances, and tiny cash bonuses for the managers of high-scoring stores. They called the campaign "March Utility Madness" to coincide with basketball season.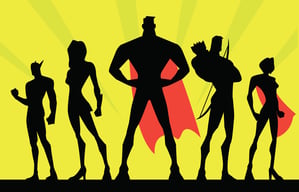 The first time they circulated the comic book, they saved $500,000 in corporate energy in one month. That was a ten-to-one return. Wondering whether it was a fluke, they did a similar campaign the next year and saved another half-a-million dollars. These savings were the result of people proactively applying common sense to energy-related aspects of their stores' operation. Turning the escalators off as soon as the store closes. Switching the jewelry case lighting off at the end of the day because no one is going to be selecting jewelry to purchase when the store is closed. Turning parking lot lighting off during daytime hours. With simple steps like these and a friendly sense of comedic competition, JCPenney could save a tremendous amount of energy and money. The chain continued to save millions of dollars in energy repeating this simple campaign year after year.

So, what's the moral of the story? Words are not always the most effective vehicle for creating a compelling need for change. Sometimes it pays to get visual.