Harnessing the Inflation Reduction Act of 2022 and Better Financial Analysis to Win More Project Approvals™
$588
6 Hours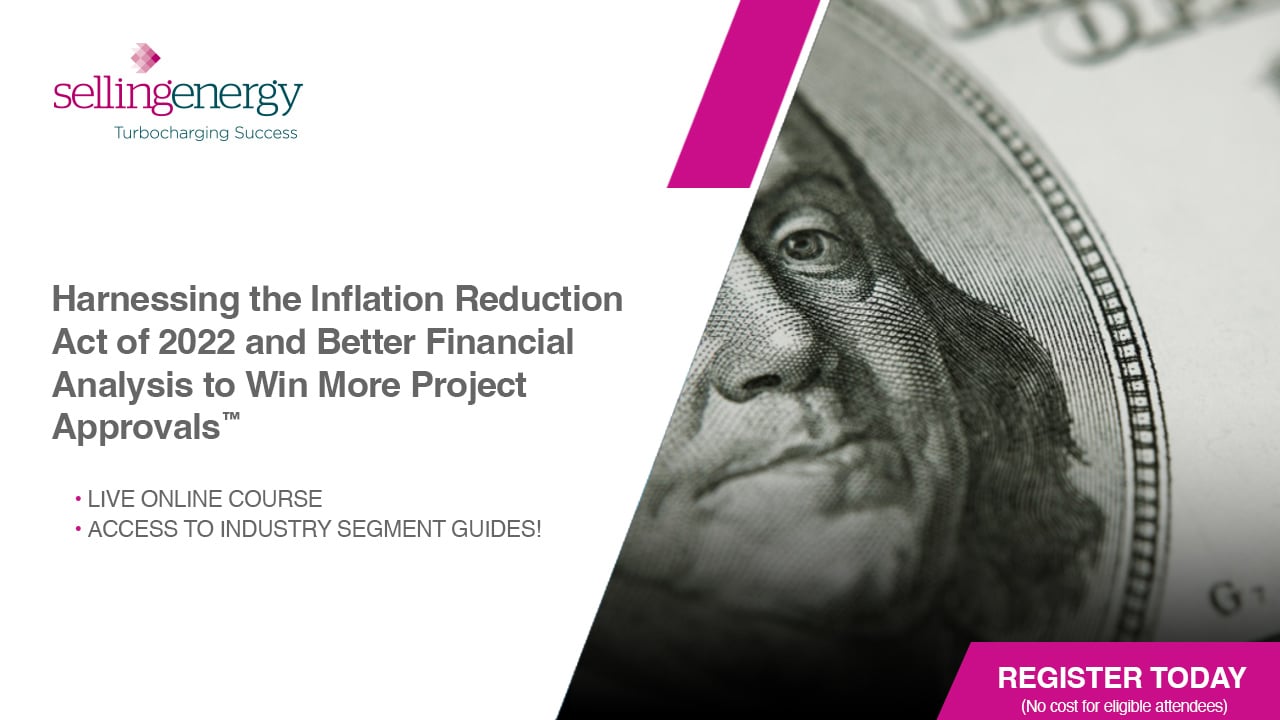 About Harnessing the Inflation Reduction Act of 2022 and Better Financial Analysis to Win More Project Approvals™
Most decisions are made emotionally and then justified financially. Hence it is vital to present concise and compelling cost/benefit analyses when seeking funding for energy projects.
This program is appropriate for all energy professionals, whether they have any background in financial analysis or not. Moreover, the entire six-hour program will be recorded, so learners can revisit the material as they begin applying these winning approaches to real-world proposals.
Financial analysis templates will also be provided to model cash inflows and outflows over time and calculate the most important financial metrics. Several projects provided by the instructor and the audience will be analyzed in real-time to demonstrate these concepts at work.
SPECIAL BONUS: This program also includes a single-user, full-year license to Selling Energy's Segment Guides™ online resource ($588 value). This tool provides insights into 24 market segments. Segment Guides™ features plenty of segment-specific, non-utility-cost financial benefits of energy projects that should be included in a fully featured cost/benefit analysis to make an even stronger case for project approval.
Your registration includes the following:
Access to the full-day, live/virtual presentation of this program divided into two half-day sessions.

A single-user, full-year license to the online/on-demand recorded version of this presentation.

A single-user, full-year license to Selling Energy's Segment Guides™ tool ($588 value).

A complimentary copy of Mark Jewell's Wall Street Journal bestselling book, Selling Energy: Inspiring Ideas That Get More Projects Approved! in electronic audiobook, e-book, or hardback format (while supplies last).

Ongoing invitations to live monthly Mastermind Group Coaching Calls with Mark Jewell to support your continued success.
After completing this course,
you will be able to:
This fast-paced, six-hour program (offered live/online, also recorded for later viewing) will explore six closely related keys to giving your prospects the confidence to move forward now:
Understanding the best ways to leverage the Inflation Reduction Act of 2022

and other incentives (e.g., utility rebates) to present the most compelling case for project approval.
Knowing which data points are needed for a comprehensive financial analysis and perhaps more importantly, where to find them.
Understanding, calculating, and explaining net present value, modified internal rate of return, and savings-to-investment ratio, which do a much better job of evaluating the merits of a proposed expense-reducing capital project than the inherently flawed metrics many prospects typically use (simple payback period, return on investment, and internal rate of return).
Coaching prospects to think more clearly about the relative benefits of paying with all cash, phasing implementation over multiple years, financing, and using an "...as-a-service" option, all with a goal of enabling a more confident and prompt decision on the best way to fund a given project.
Understanding how to allocate the costs and savings of proposed energy upgrades between landlords and tenants as a path to advancing efficiency in income-producing properties.
Using

six creative ways to express the "cost of waiting" more powerfully, which will help capture and retain executive attention and motivate faster project approval.