Using Market Segment-Specific Insights to Create Your Best Proposals™
$588
6 Hours
Using Market Segment-Specific Insights to Create Your Best Proposals™
November 17th - PART 1 - 9:00 AM - 12:00 PM PST
December 8th - PART 2 - 9:00 AM - 12:00 PM PST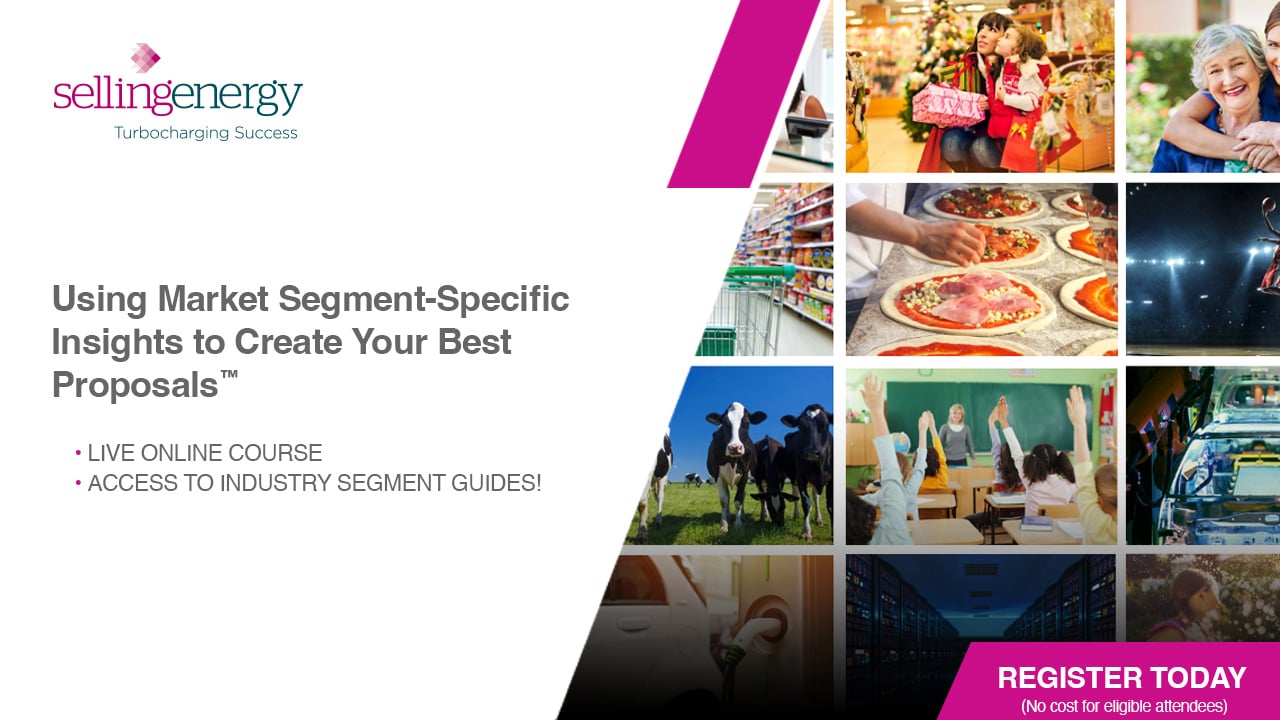 About Using Market Segment-Specific Insights to Create Your Best Proposals™
Focusing on the most promising prospects and presenting those targets with the most compelling value propositions are two hallmarks of sales professionalism.
Imagine how many more prospects would say "Yes!" if you had industry-insider knowledge that would connect the dots between your proposal and the yardsticks and outcomes they cared about. Whether you're selling your solution to a grocery store, hotel, hospital, or any of the many other segments featured in Segment Guides™, you'll have the intel, business acumen, and confidence you need to get into the mindset of your prospect. You'll be able to reframe your proposal's benefits to resonate with the yardsticks your prospects are already using to measure their own success.
Instead of talking about kW, kWh, or therms, you need to talk about three key categories of benefits: utility-cost financial, non-utility-cost financial, and non-financial. Unfortunately, most salespeople in the energy space focus on utility-cost savings alone. Taking the time to quantify and monetize non-utility-cost financial benefits and/or identify emotionally compelling non-financial benefits at a segment-specific level allows you to advance a value proposition that is much more compelling than utility cost savings alone.
Which would you rather talk to your prospect about – $10,000 in utility bill savings or $100,000 in lower cost of goods sold thanks to the more productive workplace that your energy upgrade makes possible.
SPECIAL BONUS: This program includes a single-user, full-year license to Selling Energy's Segment Guides™ online resource ($588 value). This tool provides insights that are the product of more than 400 hours of research into each of 24 market segments. It features plenty of non-utility-cost financial and non-financial benefits you can use to inspire truly compelling proposals, shorten your sales cycle, and improve your closing ratio.
Your registration includes the following:
Access to the full-day, live/virtual presentation of this program divided into two half-day sessions.

A single-user, full-year license to the online/on-demand recorded version of this presentation.

A single-user, full-year license to Selling Energy's Segment Guides™ tool ($588 value).

A complimentary copy of Mark Jewell's Wall Street Journal bestselling book, Selling Energy: Inspiring Ideas That Get More Projects Approved! in electronic audiobook, e-book, or hardback format (while supplies last).

Ongoing invitations to live monthly Mastermind Group Coaching Calls with Mark Jewell to support your continued success.
After completing this course,
you will be able to:
Connecting the dots between energy projects and non-utility-cost financial and non-financial benefits is an important dimension of this database. With Segment GuidesTM, energy professionals will find it easier to open a conversation, or revitalize a stalled one, with confidence. Realize that in many cases, utility cost savings are the least significant motivator, so knowing and highlighting all of the other benefits is often a faster path to project approval.
Know the jargon, yardsticks, profit margins and more for each of 24 different market segments.
Understand how to replicate these types of insights for any market segment you're selling into.
Learn how to incorporate these insights at several stages in the sales cycle, from prospecting to proposal development to the pitch meeting.