Transforming Objections into Objectives: Getting to "Yes!" in Both Owner-Occupied and Landlord/Tenant Settings™
$588
6 Hours
Transforming Objections into Objectives: Getting to "Yes!" in Both Owner-Occupied and Landlord/Tenant Settings™
November 17th - PART 1 - 12:30 PM - 3:30 PM PST
December 8th - PART 2 - 12:30 PM - 3:30 PM PST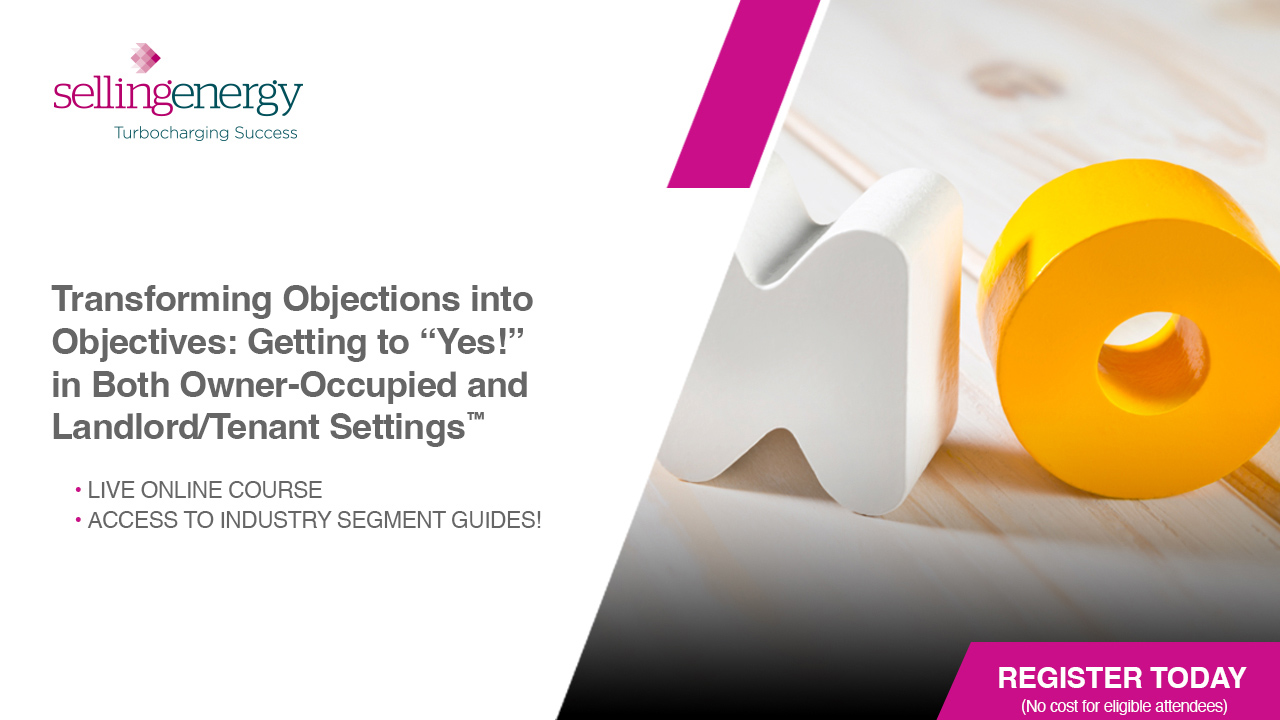 About Transforming Objections into Objectives: Getting to "Yes!" in Both Owner-Occupied and Landlord/Tenant Settings™
What exactly is an objection? Is it a roadblock on the path to your sale? Or simply a manifestation of your prospect's need for additional information before they buy? Improperly handled, objections can stall or prevent even the most worthwhile projects. "I don't have the budget." "We only approve projects with short simple payback periods." "My tenants pay the utility bill."
Fortunately, these and so many other commonly heard objections are easily addressed with confident responses that can change your prospect's perspective and motivate them to move forward. With the right preparation and reframing skills, you can pivot many objections into additional reasons for your prospect to say "Yes!"
With 30 years' experience influencing energy decision-making in more than 3 billion square feet of buildings, plus the insights gleaned from more than 15,000 energy professionals who have already taken Selling Energy's training, we've now catalogued 65 commonly heard objections along with a bounty of credible answers for each. This session will also show you how to neutralize another 30 objections commonly heard while cold calling.
SPECIAL BONUS: This program also includes a single-user, full-year license to Selling Energy's Segment Guides™ online resource ($588 value). This tool provides insights that are the product of more than 400 hours of research into each of 24 market segments. Segment Guides™ features plenty of non-utility-cost financial and non-financial benefits that make it a lot easier to move the conversation from an objection to why they should approve and fund your solution.
Your registration includes the following:
Access to the full-day, live/virtual presentation of this program divided into two half-day sessions.

A single-user, full-year license to the online/on-demand recorded version of this presentation.

A single-user, full-year license to Selling Energy's Segment Guides™ tool ($588 value).

A complimentary copy of Mark Jewell's Wall Street Journal bestselling book, Selling Energy: Inspiring Ideas That Get More Projects Approved! in electronic audiobook, e-book, or hardback format (while supplies last).

Ongoing invitations to live monthly Mastermind Group Coaching Calls with Mark Jewell to support your continued success.
After completing this course,
you will be able to:
Anticipate and confidently address 65 objections commonly heard when proposing energy solutions in both owner-occupied and landlord/tenant properties.
Confidently address 30 more objections typically encountered when cold calling so you can recruit new customers more easily.
Learn to turn objections into objectives that resonate with market segment-specific motivations, allowing you to present even more compelling reasons to approve the energy solutions you're proposing.