Leveraging New Video Selling Strategies and Tactics to Get More Energy Solutions Approved™
$588
6 Hours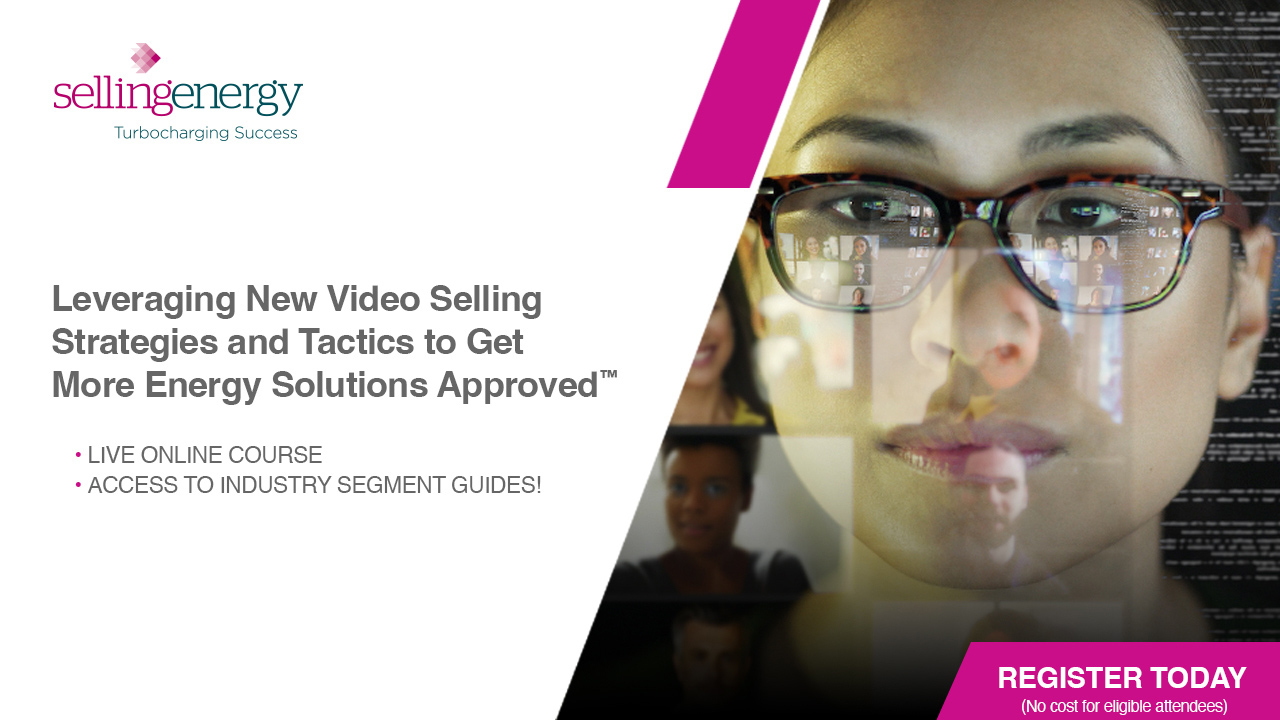 About Leveraging New Video Selling Strategies and Tactics to Get More Energy Solutions Approved™
Two out of five prospects select their vendor based on the professionalism of the salesperson rather than service, warranty, price, or other assumed differentiators. Many decision-makers and influencers are working remotely these days. More and more customers – even those still in the office – now prefer remote interactions over vendor drop-ins, scheduled in-person meetings, or "doing lunch." As a result, mastering your video presence has become one of the best ways to demonstrate your true professionalism and gain a competitive advantage. That said 78% of salespeople have received no training on being "camera-ready."
This two-part live/virtual program (also recorded) provides selling strategies and tactics to help you prevail in a world where changing buyer preferences are calling for a pivot from "outside sales" to "inside sales."
This program is appropriate for all energy professionals, even those in non-traditional sales roles (e.g., engineers, marketing staff, project managers, customer service specialists).
This program can also be accessed online/on-demand for a full year, so learners can revisit the material often as they begin applying these winning approaches to real-world proposals.
SPECIAL BONUS: This program also includes a single-user, full-year license to Selling Energy's Segment Guides™ online database ($588 value). This tool provides insights into 24 market segments, each of which has been updated to include the impacts of COVID-19 and the recession. Segment Guides™ offers plenty of segment-specific, non-utility-cost financial benefits and non-financial benefits to energy solutions – content to consider including in your video messaging to make an even stronger case for approval.
Your registration includes the following:
Access to the full-day, live/virtual presentation of this program divided into two half-day sessions.

A single-user, full-year license to the online/on-demand recorded version of this presentation.

A single-user, full-year license to Selling Energy's Segment Guides™ tool ($588 value).

A complimentary copy of Mark Jewell's Wall Street Journal bestselling book, Selling Energy: Inspiring Ideas That Get More Projects Approved! in electronic audiobook, e-book, or hardback format (while supplies last).

Ongoing invitations to live monthly Mastermind Group Coaching Calls with Mark Jewell to support your continued success.
After completing this course,
you will be able to:
This program will teach you how to:
Improve your "virtual intelligence" to make you more effective interacting with your prospects, customers, and colleagues in remote and hybrid selling environments.
Use "video selling" to boost your perceived professionalism and impact. Video selling extends far beyond "synchronous" video like Teams and Zoom calls. New sales enablement tools allow you to insert head-turning video presence into virtually every stage of your buyer's journey: "asynchronous" video selling in the form of meeting invitations, proposal walk-throughs, post-meeting minutes, post-implementation success reporting, ongoing client nurturing, and more.
Take your "communication intelligence" to the next level by 1) presenting a genuinely compelling case to your internal champion; and, 2) giving them powerful tools to persuade others in the decision-making chain. The result: shorter sales cycles and improved closing ratios.
Learn how to craft powerful video content that turbocharges each of the following six field-proven selling strategies that help capture and retain attention and win more approvals:

Reframing energy projects to match each customer's segment-specific goals/yardsticks.

Crafting and practicing compelling elevator pitches and three-sentence solicitations.

Drafting and presenting compelling one-page narrative proposals focused on "why."

Presenting one-page financial analyses featuring the right metrics.

Overcoming objections to "win" ignored, stalled, rejected or new energy proposals.

Leveraging cross-selling, up-serving, referrals, etc. to generate "win-win" outcomes.